United Airlines - inconsiderate offer to customers with existing reservations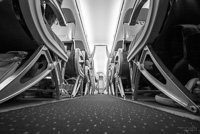 In April 2020, United Airlines CEO Oscar Munoz and President Scott Kirby wrote employees "Travel demand is essentially zero and shows no sign of improving in the near term." They continue "While we have not yet finalized changes to our schedule for July and August, we expect demand to remain suppressed for the remainder of 2020 and likely into next year."
Also in April, United Airlines received a bailout from U.S. taxpayers, with the intent to help the airline survive the crisis.
Additionally in April, United Airlines sent an email to customers with an offer to reschedule flights without fees, or cancel a reservation without fees and receive a credit, which must be used within 24 months of the date the reservation was booked. Refunds were not offered. This means that if a reservation was ticketed in January 2020 for travel in June 2020, the credit must be used before January 2022.
The offer to customers is inconsistent with the reality that United Airlines management expects in the next few years. United Airlines is a member of the International Air Transport Association (IATA), which does not expect air travel to resume to an appreciable level until after a coronavirus vaccine is developed and delivered. As of April 2020, the pharmaceutical industry expects a 12-18 month duration to develop a vaccine. After that it will take additional time to deliver the vaccine worldwide, a total of 2-3 years from now. Therefore, many United Airlines customers will likely not be able to use a credit before it expires. A recent check of the United Airlines booking system shows that the airline is not currently flying on some usual routes. Also, United Airlines has not disclosed plans to address maintaining safe distances for travelers, eg., blocking middle seats. The situation for domestic flights may be bad; it is even worse for international flights.
At best it is inconsiderate and at worst not ethical for United Airlines to take a taxpayer-funded bailout and not refund customers (who are predominantly taxpayers) for reservations, knowing that many customers would not have the opportunity, financial stability or health safety to fly again within two years. United Airlines should be providing an option for refunds.