Autumn in Osttirol
Osttirol (East Tyrol) is a region of the Austrian Alps. I visited a friend, wildlife and nature photographer Karl Seidl, during October 2019. Usually I am either an explorer of new locations or a guide to known locations. However, this time I was the follower and Karl was the guide.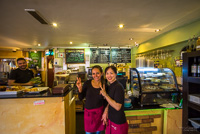 Best little coffee house in Dublin
In May 2019, I spent four days in Dublin before heading to the southwest for a photography project. After arriving in Dublin and checking into the hotel, I needed something to eat. Just across the street from the hotel was Mochaland Cafe, near the Millenium Bridge. After going inside and sitting down, the staff were very friendly and welcoming. The lunch, a wrap, was very good and after conversing with the staff about opening times and meals, I thought this would be a good place for breakfast the next day.
Remembering fall of the Berlin Wall, November 9, 1989
The Berlin Wall Memorial, at Bernauer Strasse in Berlin, contains a very good exhibition of the history of the Berlin Wall. It is a must-see in Berlin, especially for those who were not yet born or were too young to know about the wall.